How To Plan For CCTV Cameras in New House During Construction
This article is for those who are planning to build a new house and want to install CCTV in their house. And also, to people who want install CCTV in future. Security is one of the most important concerns to all once we are building a new house.
Comparing to wireless CCTV for new houses wired CCTV is better and cost-effective. To Install CCTV neatly, we need to plan the position of CCTV during the time of conduit laying for the House. We need a separate conduit pipe for CCTV and Data network. Otherwise, signal distortion will happen.
Once CCTV position is finalised we need to lay a conduit for each CCTV to CCTV Panel ( DVR or NVR). 3M GI Metal box can be concealed just below the sunshade. Care should be taken to see if there is any obstruction when the window is open in front of the camera or if any other unseen structure changes from the original drawings. Avoid fittings like elbows, tees etc. while laying pipe for CCTV cable. Use bend and junction instead.
20mm conduit. No more than 2 x CAT6 telecommunications cables are to be installed.
25mm conduit, No more than 4 x CAT6 telecommunications cables to be installed.
32mm conduit, No more than 8 x CAT6 telecommunications cables to be installed.
Basket tray, 50% fill ratio is allowed for the open cable tray.
Cables from all cameras should be routed to CCTV Panel which contains DVR or NVR and Hard Disk. You can place it either under Staircase, at the cupboard under TV, Or if you are more concerned about security you can even place it in Mater Bedroom in the little heigh area which is not easily accessible and lockable. The advantage of placing CCTV panel or DVR near TV is that there is no need for another monitor or extra cable to view the CCTV footage. If TV is Far away, we may be needing Extra LAN cable to TV, Then LAN to HDMI converter to connect to TV.
If you have a Broadband connection the best place to keep the modem or Wi-Fi Router is nearby CCTV Panel. So that you can connect your DVR or NVR to the network. This will help you to monitor CCTV from mobile and even abroad. Otherwise, you have to bring a separate LAN cable from the modem to the DVR.
You Should Place cameras at such an angle so that we can view all people and vehicles with their numbers entering your gate and doors. If you wish to place the camera in front of your gate to monitor roads then you can put a 25mm plumbing pipe through the ground near the gate. If all these things are done in advance while constructing your new house, we can avoid the filthy and dirty extensions and piping work that we see in many places later when CCTV is installed.
Watch Video Tutorial In Malayalam on Youtube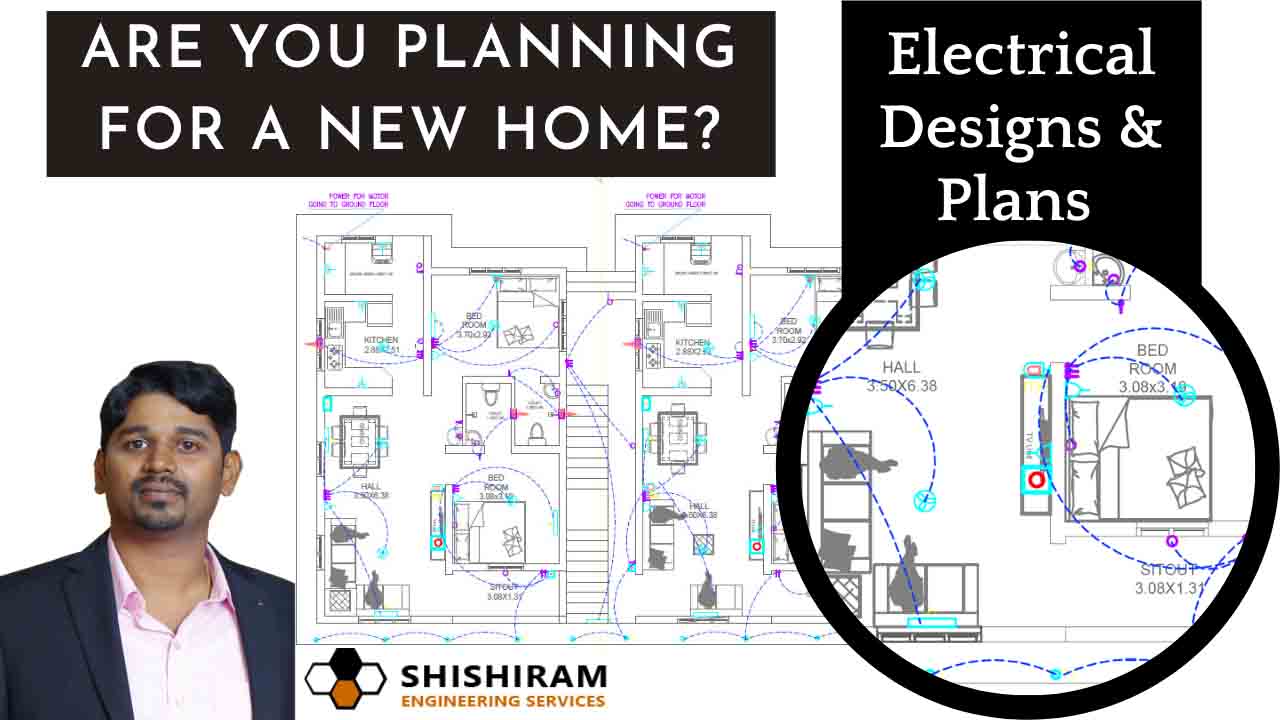 Electrical Drawing Layout For Homes & Residential Building In Kerala
A Perfectly Electrical Designed Home will be
Safer for Yourself & Your Home Appliances
Reduce the Energy Bill
Perfectly Designed for All Your Needs
Designed for Future Requirements
Reduce Cost & Wastage of Materials
Easy Maintenance in future
Shishiram Engineering Services Is an Electrical Engineering Services Provider Offering a Range of Services Including Electrical Engineering Consultancy Services. We Are Professionals Who Will Design Dream Concepts for Your Home with Modern Technology.
The basic electrical drawings and plans you need are
light layouts designs,
power layouts designs,
distribution board details with
RCBO/RCCB/Isolator/MCB specifications,
fixtures marking,
CCTV layouts designs, e
arthing designs layout, e
nergy metering panel designs,
simplified electrical schematic diagram. p
rovision for solar
and inverter and generator system designs.