Electrical Drawing For Homes & Residential Building
The need & relevance of Electrical Drawings, Wiring Diagrams, Designs, House Electrical Plans & Estimation for Home residential buildings are increasing day by day. Below mentioned are the basic electrical drawings and plans you need to make for your new house.
Electrical Drawings,  Light Layouts Designs, Power Layouts Designs, Distribution Board Details, RCBO/RCCB/ELCB/MCB Specifications, Fixtures Marking, CCTV Layouts Designs, Earthing Designs Layout, Energy Metering Panel Designs, Simplified Electrical Schematic Diagram, Provision for Solar, Inverter System Designs.
We have also discussed the importance & advantages of having Electrical Drawings for home while building your new home.
A Perfectly Electrical Designed Home will be
* Safer for Yourself & Your Home Appliances
* Reduce the Energy Bill
* Perfectly Designed for All Your Needs
* Designed for Future Requirements
* Reduce Cost & Wastage of Materials
* Easy Maintenance in future
For Online House Electrical Layouts and Drawings
Electrical Drawings For Home :- Electrical Layout Design
Electrical Layout designs are very important for the house owner and electricians or electrical contractors to understand & finalize the position of various fittings and its control switch positions. This will allow avoiding unwanted fittings and correct switch position as per house owners' requirements.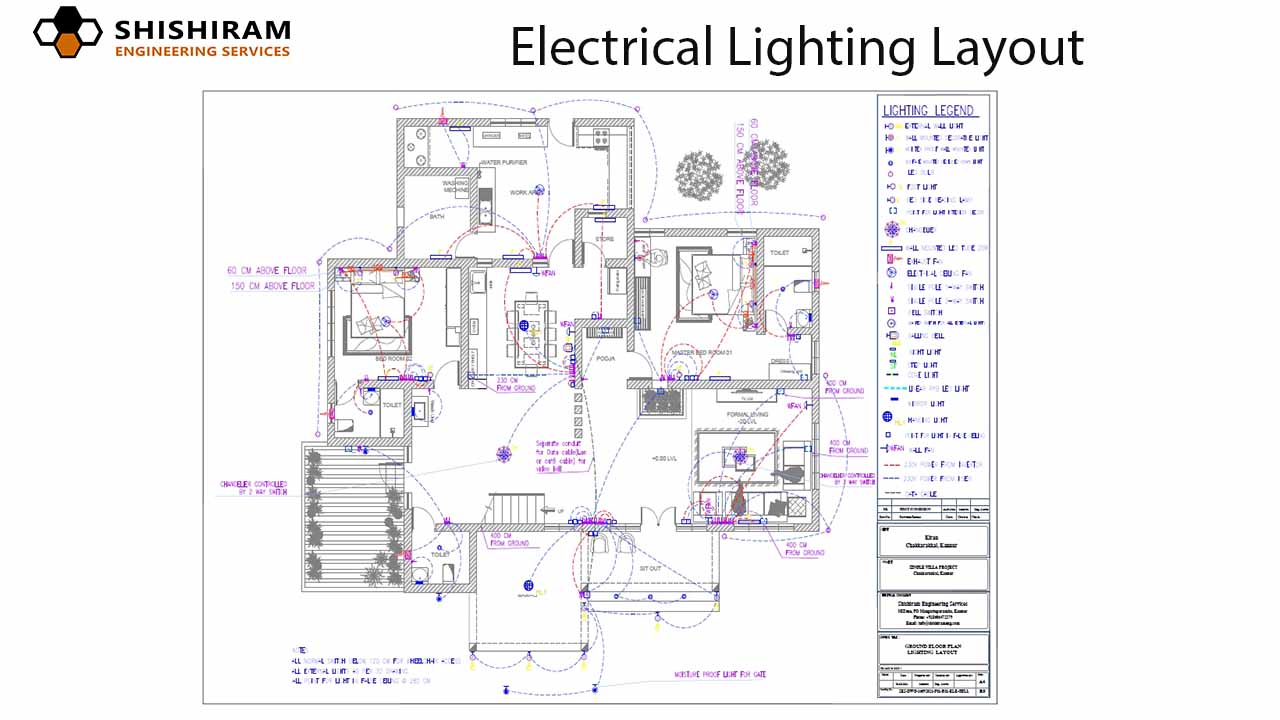 Electrical Lighting Layout Design
Electrical Lighting Layout designs show the position of various light fittings and their control switch positions. This will allow house owners' to confirm correct and complete lighting for their home. This lighting layout design also shows the control supply is from the Inverter or mains. Master switch-controlled lights in exterior is shown in this layout.
Electrical Power Layout Design
Electrical Power Layout designs are normally done where there are a number of lights and power sockets in the same location. So we have to separate the electrical layout drawing and need to provide separate the lighting layout and the power layout drawing. 
Electrical Circuit & Conduit Layout Design
Electrical circuit & conduit Layout designs show the position and route of laying conduit or PVC piping for taking electrical wires. This is very important because choosing the short and easiest path of conduit will save a huge amount of money. Since we While saving the conduit length. We are actually saving labor and material cost for cutting, laying, and fitting conduits; Cost of conduit, and Cost for multiple runs of wires.
Electrical Scheme & Instructions
Electrical Scheme shows the Distribution Board Details, Energy meter box details, Protection, and safety equipment like SPD, Isolator, Fuse, Phase selector, Indicators, RCBO, RCCB, ELCB, MCB, etc. rating and specifications. Details of earthing that needs to be used. Size and specification of wires and cables. The special and customized system for back supply requirements like inverter and generator as per house owner requirement. Special protection of electrical system Installed exterior to the house. Consideration of future spare loads and power sockets of charging electric vehicles, and many more.
Plumbing Layout Design
Plumbing Layout designs show layout designs of various piping for freshwater, hot water, wastewater, pipeline to septic tanks, etc. This drawing will also help in positioning water tanks and water filter systems to avoid the blockage of pipes in the future. This drawing will also show the position for various tanks and well like open weel, bore weel, waste waster tank, septic tank, rain harvester tank,etc.
CCTV Layout Design
CCTV Layout designs show the various camera position that needs to be installed to get the best coverage of the house. This will also help to minimize the blind spot of the camera. This drawing will also show the position of the CCTV panela and conduit for cabling the cameras.
Electrical Drawings for Home:- Solar Power & Water Heater Design
SOlar power and water heater design will show position for solar power plant and solar water heater on the rooftop. In some cases, it will show potential future positions for these items and piping requirements that need to be done during construction for easy installation in the future.
Electrical Load Schedule
The load schedule will show the complete connected load in the system. This will also give the house owner to have an idea about how many light fittings and fans, he/she needs to purchase.
Material Estimation as per Design
This contains the complete Material estimation that is required as per the design and layout. It contains complete BOQ for both electrical and plumbing works.
Our Area Of Service for MEP Drawings for Houses or Residential Buildings
Covering an extensive scope, Shishiram Engineering excels as a notable MEP (Mechanical, Electrical, and Plumbing) service for house or residential building provider, effectively meeting the needs of clients across Kerala and India. Renowned for their impeccable MEP drawings that encompass intricate electrical and plumbing layouts, their excellence is widespread. Their services not only encompass well-known locations within Kerala, including Thiruvananthapuram, Kollam, Pathanamthitta, Alappuzha, Kottayam, Idukki, Ernakulam, Thrissur, Palakkad, Malappuram, Kozhikode, Wayanad, Kannur, and Kasaragod, but also extend to numerous major cities across India, such as Mumbai, Delhi, Bangalore, Chennai, Kolkata, Hyderabad, Pune, Ahmedabad, Jaipur, Chandigarh, Lucknow, and Bhopal. By tailoring solutions to the specific demands of each project, Shishiram Engineering ensures the seamless integration of MEP systems, playing a vital role in enhancing the efficiency and sustainability of buildings and infrastructure across the nation.
If You are a House Owner, Contractor, or Electrician Looking for Electrical Drawings
Feel Free to contact us for further clarifications and to know electrical drawings charges. We also Provide Online electrical drawings services in which you can email or Whatsapp your architectural or civil drawings to us and discuss your ideas and requirements via telephone. For more details contact us.
Shishiram engineering services is a Kerala based electrical drawing, wiring diagram, layout, and estimation provider for house or residential buildings, commercial buildings, and industrial or factories. We provide our online electrical drawings and layout services all over India and abroad.
You will get Professional Electrical building design and drafting using AutoCAD.
Watch Video Tutorial In Malayalam on Youtube
Watch Video Tutorial In Malayalam on Youtube