Steps to be taken during construction for Home Automation
Home automation is a growing trend transforming our lives. Now homeowners to remotely control and automate various appliances and systems in their homes, providing convenience, comfort, and energy savings. If you are planning to incorporate home automation in your new home construction project, here are some basic things you need to consider:
Electrical Design: The first and most important aspect of home automation is proper electrical design. Plan ahead and ensure that you have enough electrical outlets, switches, and wires to support your home automation system. You may need to install additional wiring and outlets for devices such as auto gate, smart thermostats, security cameras, and smart lights.
Plumbing Design: You also need to consider plumbing design for home automation. Smart garden management & Auto irrigation systems that can be controlled remotely and conserve water.
Network Infrastructure: A robust network infrastructure is essential for home automation for every smart home needs high-speed internet connectivity and Wi-Fi coverage throughout the house. For that, we need to integrate a mesh network system that can provide reliable connectivity to all your devices.
Automation Controllers: Automation controllers are the brain of the home automation system. The right controller that can support all your devices and provide seamless integration is very important. Some popular options include Amazon Echo, Google Home, and Apple HomePod.
Smart Devices: Devices that you want to incorporate into your home should be smart enough for a better automation system. This includes smart thermostats, smart lights, smart locks, smart security cameras, and more. Make sure that the devices are compatible with your automation controller and can be controlled remotely.
Proper planning and design are essential for successful home automation integration during home construction. These points are very important to ensure that your home automation system is efficient, reliable and provides you with the comfort and convenience you desire.
Watch Video Tutorial In Malayalam on Youtube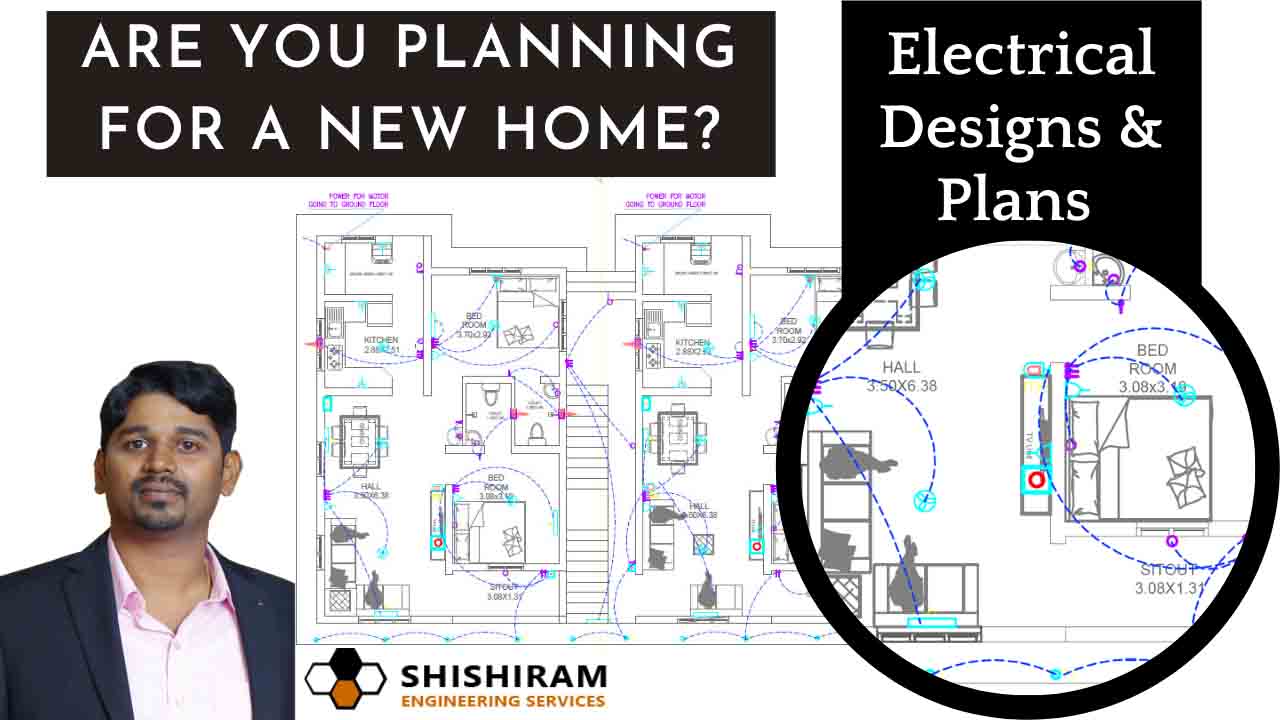 Electrical Drawing Layout For Homes & Residential Building In Kerala
A Perfectly Electrical Designed Home will be
Safer for Yourself & Your Home Appliances
Reduce the Energy Bill
Perfectly Designed for All Your Needs
Designed for Future Requirements
Reduce Cost & Wastage of Materials
Easy Maintenance in future
Shishiram Engineering Services Is an Electrical Engineering Services Provider Offering a Range of Services Including Electrical Engineering Consultancy Services. We Are Professionals Who Will Design Dream Concepts for Your Home with Modern Technology.
The basic electrical drawings and plans you need are
light layouts designs,
power layouts designs,
distribution board details with
RCBO/RCCB/Isolator/MCB specifications,
fixtures marking,
CCTV layouts designs, e
arthing designs layout, e
nergy metering panel designs,
simplified electrical schematic diagram. p
rovision for solar
and inverter and generator system designs.