Changing Single Phase Line to 3 Phase to Get Continuous Power Supply
In this article, we discussed whether changing a single-phase line to a 3 phase to get a continuous power supply is better or not. That is if you are facing problems like constant power failures in the power line coming to your house and at the same there is a power supply in other lines. The main thing is that it is practically possible but the cost which comes along with it in order to change from a single phase to three phases will be around 15000 to 20000 rupees. It will be better to consult with KSEB or an electricity supplier to check and solve issues in the line or change your home supply service line to a line that is not having such issues.
We have Answer to this question of subscriber which was asked via youtube comments" ഞങ്ങളുടെ വീട്ടിൽ ഒരു കണക്ഷനും (LT) opposite വീട്ടിൽ വേറെ കണക്ഷനും ആണ്. അതായത് 2 different line. ഞങ്ങളുടെ connection ഇടക് ഇടക് current പോവും. പക്ഷെ അവരുടെ വീട്ടിൽ current ഉണ്ടാവും. So ഞങ്ങൾ 3 phase ആക്കിയാൽ ആ line connection കൂടി njangalude linil ഉൾപ്പെടുത്താൻ പറ്റുമോ?… Means option to shift line when current goes in 1 line."
If you have such a question, feel free to comment below.
Watch Video Tutorial In Malayalam on Youtube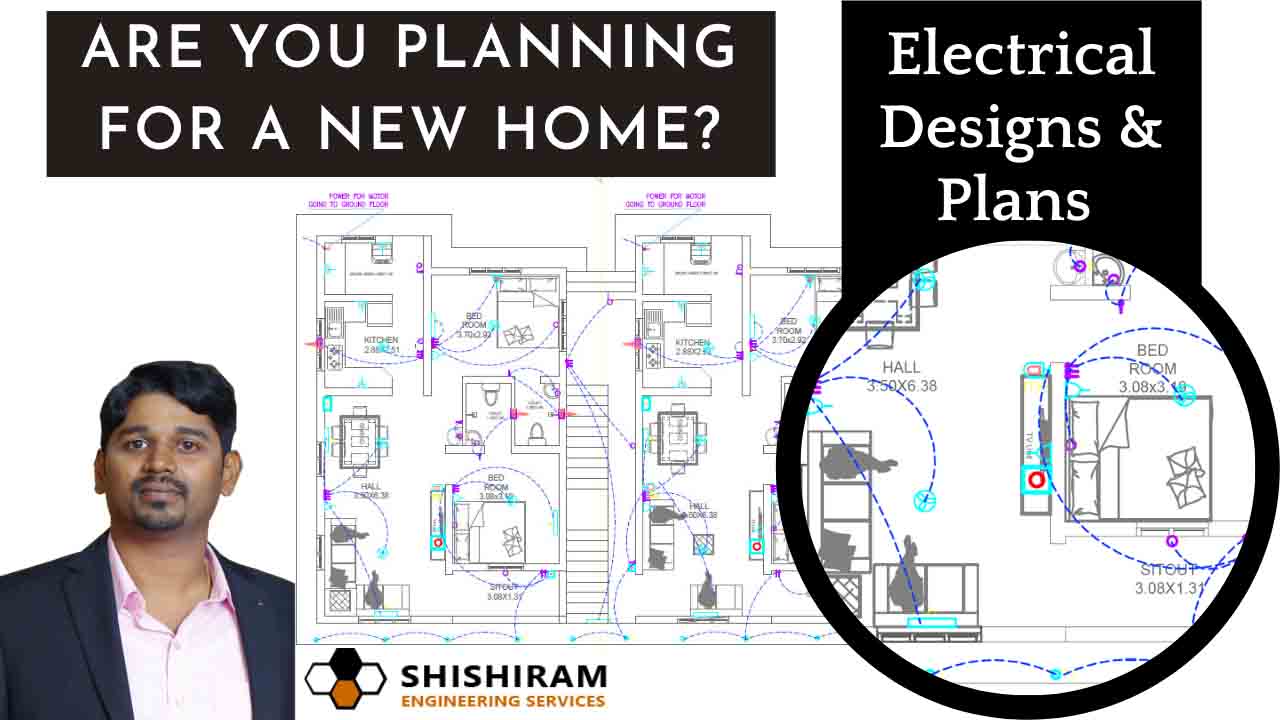 Electrical Drawing Layout For Homes & Residential Building In Kerala
A Perfectly Electrical Designed Home will be
Safer for Yourself & Your Home Appliances
Reduce the Energy Bill
Perfectly Designed for All Your Needs
Designed for Future Requirements
Reduce Cost & Wastage of Materials
Easy Maintenance in future
Shishiram Engineering Services Is an Electrical Engineering Services Provider Offering a Range of Services Including Electrical Engineering Consultancy Services. We Are Professionals Who Will Design Dream Concepts for Your Home with Modern Technology.
The basic electrical drawings and plans you need are
light layouts designs,
power layouts designs,
distribution board details with
RCBO/RCCB/Isolator/MCB specifications,
fixtures marking,
CCTV layouts designs, e
arthing designs layout, e
nergy metering panel designs,
simplified electrical schematic diagram. p
rovision for solar
and inverter and generator system designs.