Earthing, Grounding & Neutral
In this article, we discussed about earthing system, grounding system and its difference.  Earthing system and grounding system are more over same. In UK and IEC standards we call it earthing system but in US we call it grounding system. It connects specific parts of an electric power system with the ground, typically the Earth's conductive surface, for safety and functional purposes. The earthing system we use can affect the safety and electromagnetic compatibility of the installation. In addition to electric power systems, other systems may require grounding for safety or function.
Three Main Purposes for Earthing
System earthing
System earthing serves a purpose of electrical safety throughout the system that is not caused by an electrical fault. Its main purpose is to prevent static buildup and to protect against power surges caused by nearby lightning strikes or switching. System earthing also allows for equipotential bonding to all metalworks to prevent potential differences between them. Having Earth as a common reference point also keeps the electrical system's potential difference limited to the supply voltage.
Equipment earthing
Equipment earthing serves a purpose of electrical safety in an electrical fault. Its main purpose is to prevent equipment damage and the risk of an electric shock. When current flows from a line conductor to an earth wire, RCD will automatically open the circuit to clear the fault.
Functional earthing
Functional earthing serves a purpose other than electrical safety. Example purposes include electromagnetic interference (EMI) filtering in an EMI filter, and the use of the Earth as a return path in a single-wire earth return distribution system.
Watch Video Tutorial In Malayalam on Youtube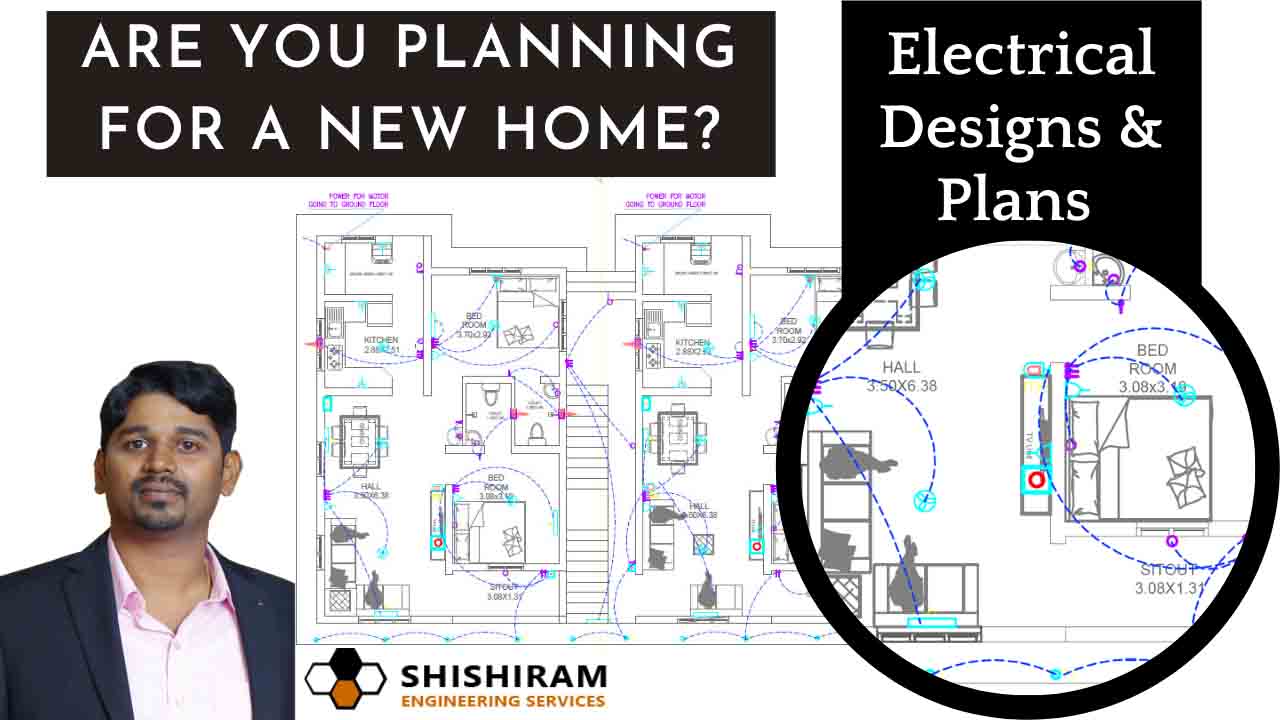 Electrical Drawing Layout For Homes & Residential Building In Kerala
A Perfectly Electrical Designed Home will be
Safer for Yourself & Your Home Appliances
Reduce the Energy Bill
Perfectly Designed for All Your Needs
Designed for Future Requirements
Reduce Cost & Wastage of Materials
Easy Maintenance in future
Shishiram Engineering Services Is an Electrical Engineering Services Provider Offering a Range of Services Including Electrical Engineering Consultancy Services. We Are Professionals Who Will Design Dream Concepts for Your Home with Modern Technology.
The basic electrical drawings and plans you need are
light layouts designs,
power layouts designs,
distribution board details with
RCBO/RCCB/Isolator/MCB specifications,
fixtures marking,
CCTV layouts designs, e
arthing designs layout, e
nergy metering panel designs,
simplified electrical schematic diagram. p
rovision for solar
and inverter and generator system designs.